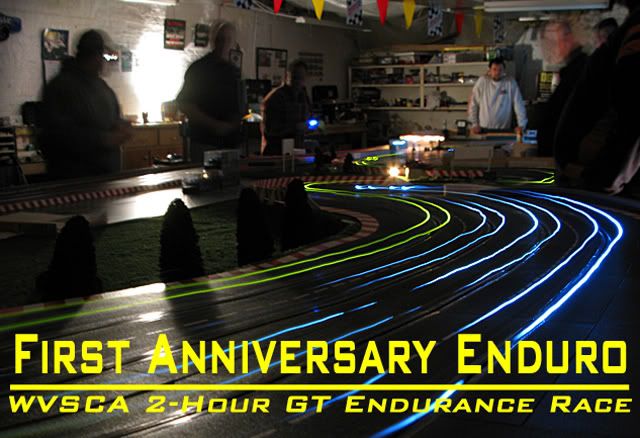 January 24th 2009
was the date for the WVSCA'S 1st anniversary race that was done in true WVSCA fashion based on endurance racing. We just so planned our race around the ROLEX 24hr race so it kept the spirit on high and unfortunately our weather was slightly colder than in Daytona. The race was based on Carerra 1/32nd scale GT1 cars which were the most popular cars the club could come up,with with working lights and were pretty well matched up in test results we performed weeks prior to the event. All cars were allowed to use Indy Grip or MaxTrac Tyres but no other mods were allowed.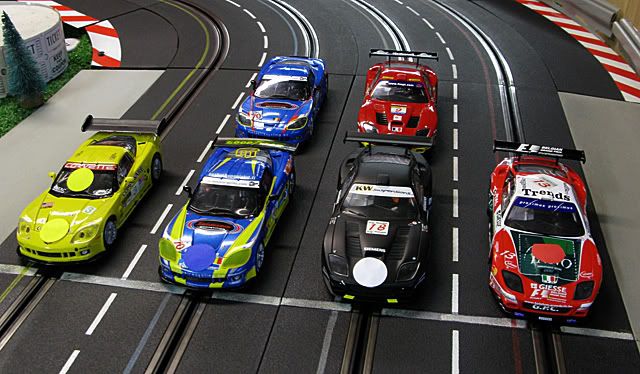 Our race format was to be a 2 hour enduro race, with 10 minute lane segments with 3 rotations on our 4 lane raceway. The first rotation was done under the normal lights , while the second rotation was done in darkness , and the third rotation was performed back under normal lighting. 12 racers showed up making 6-two man teams for one heck of a night of racing. The teams were as follows:
JJ and Scott Kozokas (Team ANARCHY)
Tom Pintchuck and Dave Kennedy (team First and Last)
Tom Gunshannen JR. and Tom Gunshannen 3rd(team TOM)
Brian Whalen and Rich Stearns(Team Carnage)
Sam Barbos Jr. and Scott Walters(CFS Racing) please don't ask what the CFS stands for...
And last but not least Tyler Stobodian and Chuck Perez(T&C Racing)
The race started out strong for all teams with some good solid driving from all the racers and not a lot of de-slots happening so the cross team bantering made up for the most interesting part of stage one. With the first stage over it looked like a pretty close race:
FIRST AND LAST with 306 laps
T&C Racing 306laps
ANARCHY 302 laps
CFS 299 laps
TOM 290 laps
CARNAGE 267 laps
The second stage of the race was raced in darkness with some small ambient light and the fun really began to start.. Team First and Last really took off and the rest of the field could only race for second place after Tommy P. ran super strong with Dave K. making up any differences and they were the strongest team out in darkness. Sam Barbose put a super run together but could not catch up to put T&C racing out of second place. Team TOM started pushing hard in darkness but could not get to third at this point. Team ANARCHY was having braid trouble but managed no to finish last. Team CARNAGE were having troubles of their own but stayed in the race hoping to get a repair at the stage break. After darkness results were:
FIRST AND LAST .....314
T&C RACING............308
CFS RACING.............306
TEAM TOM...............300
TEAM ANARCHY.........271
TEAM CARNAGE..........269
Now the final stage was raced in normal lighting and all First and Last had to due was keep their lead and T&C wanted to catch up. Braid issues hit T&C racing early enough to fix quick but it hampered any chance for taking the win and First and Last were too strong to catch. CFS Racing wanted to take second off of T&C Racing but the new-comer , 12 year old, Tyler Stobodian ran the red and white lane better than he had all night to give his team second place for sure. JJ and Scott were trying to pull something together with the last stage being their best but could not take the 4th place position from the Team Tom. Team Carnage had car failure so Sam Barbose gave them a loaner car to finish the race with, now that is true sportsmanship. Scott Walters put together a great racing drive at the end to help his team (CFS Racing) a 3rd place finish. Here are final results:
FIRST & LAST..318 STAGE 3.......938 TOTAL
T&C RACING....310 STAGE 3.......924
CFS RACING.....305 STAGE 3.......910
TEAM TOM......300 STAGE 3.......890
TEAM ANARCHY..304 STAGE 3......877
TEAM CARNAGE..256 STAGE 3.....792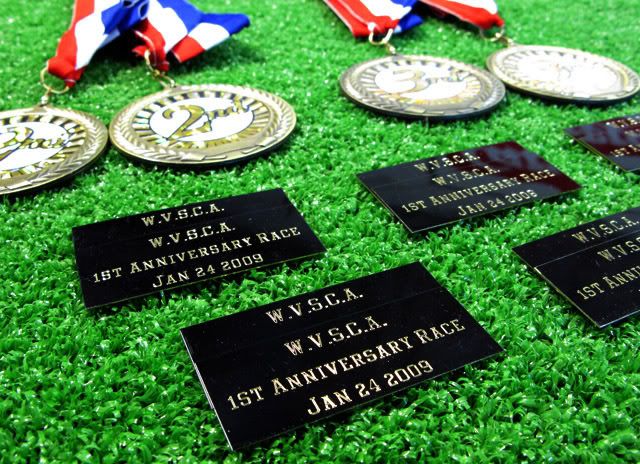 Congrats to all racers who raced this event a thanks to all ...
The WVSCA is Located in Northeast Penna. and can be contacted by e-mail at CPJR65@yahoo.com or by phone at (570) 262-2128 check out our web site at WVSCA.blogspot.com